Here are definitions of common terms for body parts you may hear your doctor or physio use!
Ligaments
Ligaments are cordlike extensions that serve to connect ends of two bones to form a joint. They are made up of strong, durable, slightly elastic bandlike structures comprised of collagen fibres. The structural make up of ligaments is advantageous providing joint stability by limiting excessive movement.
Tendons
Similar to ligaments, tendons contain densely packed bundles of tough collagen fibres that hold muscles together to the bone. They are located at the ends of every muscle in the human body. Bound together in tight sheaths they are made to withstand tension and transmit forces exerted by the muscle to the bone to cause movement.
Muscles
Human body is made up of over 600 muscles categorised into three different types – cardiac, smooth and skeletal muscle.
Cardiac muscle – is only found in the walls of the heart. Its contractions help propel blood through the blood vessels to all part of the body.
Smooth muscle – is found mainly in the lining of internal organs (except the heart) including digestive and uninary tract organs, blood vessels. Smooth muscle works to transport substances through the organs by alternately contracting and relaxing.
Skeletal muscles – Skeletal muscles are the most abundant type of muscles that form the flesh of the body. They are attached to bones of the skeleton by tendons. They are responsible for voluntary movements of body. Facial expression, mobility, postural control and breathing are some of the movements we observe when skeletal muscles are subjected to voluntary control.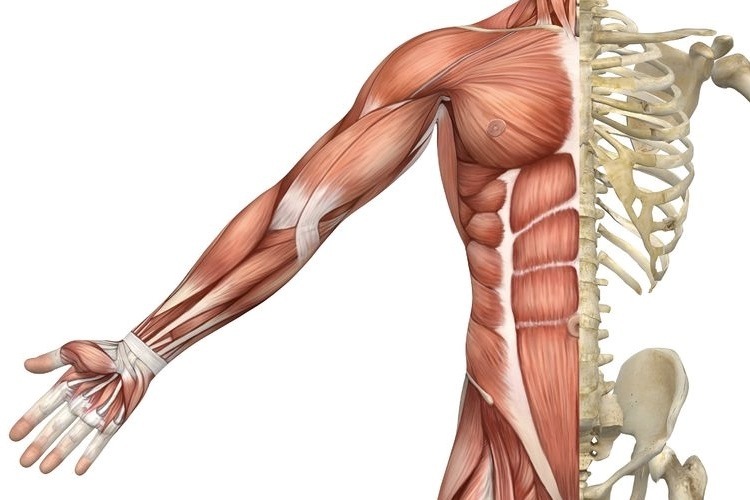 Bones
Skeletal system of the human body is made up of 206 bones. Bones are most involved in providing an architectural framework by providing body shape, support and protection of vital organs and for locomotion. Besides these functions, bone is a reservoir for mineral and fats as a source of stored energy and formation of blood cells. Bones are classified by their shape as long, short, flat and irregular. They are connected by ligaments to form joints.
Cartilage
There are three different types of cartilage found in the human body – hyaline, elastic and fibrocartilage. Hyaline cartilage is the most common cartilage in the human body. It covers the ends of most bones at movable joints, connects ribs to the breastbone, forms the voice-box and nasal passages. It consists of high water content that provides resilience to withstand great compressive forces found predominantly in joints.