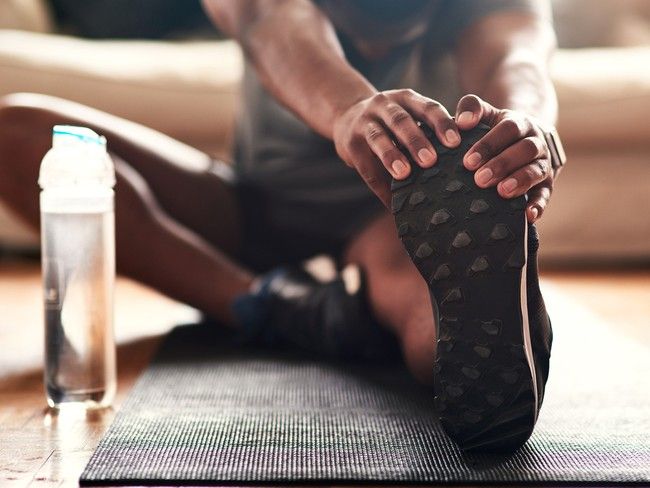 Exercises you can do during lockdown
I know how hard it can be when it comes to working out and its really easy to find an excuse to avoid lockdown workouts but it's not just about staying in shape its also about keeping active to feel mentally strong. We know that exercise does wonders for mental health and at a time where its all uncertainty, anxiety, and a daily dose of doom and gloom, we all need to work out that frustration somewhere!
If you're struggling with a lack of motivation or negative mindsets there's only one way to turn it all around: Take ACTION
How much exercise is enough?
You've heard the saying something is always better than nothing and that's the case when it comes to exercise. The current recommendation for adults according to Best Exercises for Health and Weight Loss.org is to aim for 150 minutes of moderate intensity activity every week (or 75 minutes of vigorous intensity) with two sessions of strength building activities per week. That's about 30 minutes of movement, five times per week.
This is a quick full body routine:
Bodyweight Squats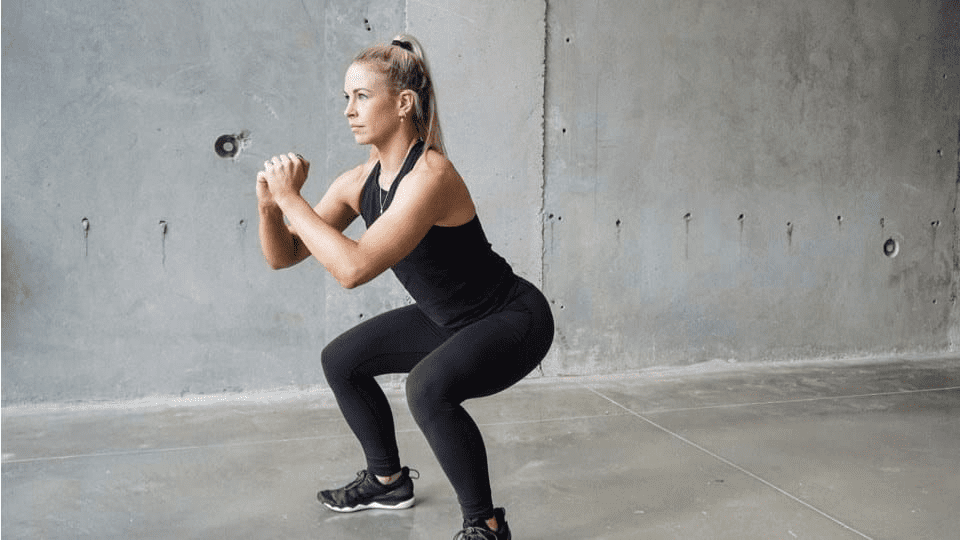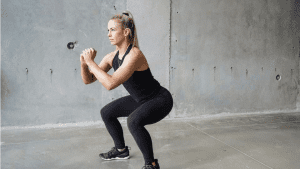 Stand with your feet shoulder-width apart. Engage your core muscles and gently squat down. As you squat, bend from your hips. Keep your back straight as you push your hips back and counterbalance by leaning your torso forwards. Keep your knees aligned with your toes. Your weight should be evenly on your heels and the balls of your feet, not your toes. It might help to image your are trying to sit down in a chair that is too far away from you. Tense your bottom muscles at the bottom of the squat and keep them tense as you straighten back up to the start position.
Arm dips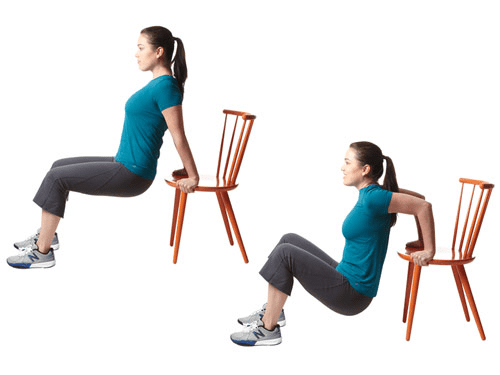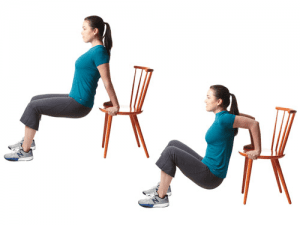 Start in a seated position. Place your hands on the seat of the chair and use your arms to move yourself forwards towards the front of the chair. You will need to move your feet further forwards to help your stability. From this position, use the strength of your arms to slowly lower your body directly down towards the floor and then raise yourself back up. Do not actually sit on the floor and keep your hands close in beside you. Relax and repeat.
Lunges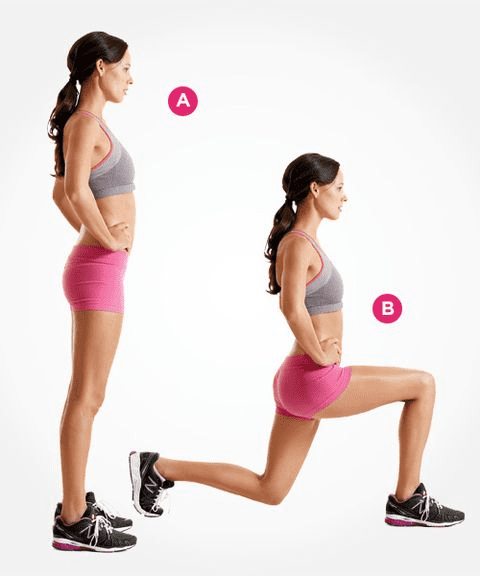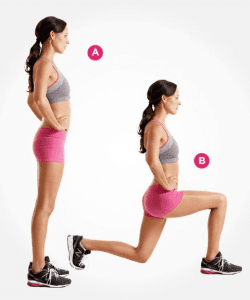 Stand straight with your arms to the side or on your hips. Take a large step forwards on your affected leg, then drop your hips directly down between both feet, bending your hips and knees to a 90 degrees. Push back up to the starting position, and repeat. Make sure you take a large enough step that your front knee does not travel over your foot, and ensure your knee travels directly forwards. Keep your body up straight throughout the movement.
Mountain Climbers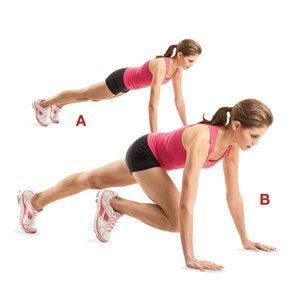 Adopt a plank position insuring your hands are directly beneath your shoulders.
Fully flex one hip and hold.
Extend the bent leg to the rear and repeat the movement pattern on the opposite side