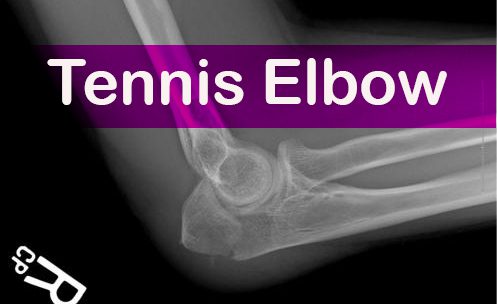 What is Tennis Elbow?
Tennis elbow, or also known as lateral epicondylitis, is a painful disorder of the elbow triggered by overuse. This disorder is characterised by inflammation or, in some cases, micro-tearing of the extensor tendons which link the forearm muscles on the outer part of the elbow. This leads to pain and tenderness on the outside of the elbow, spreading through to the forearm and wrist.
Causes
Tennis elbow is characterized as an overuse and muscle strain injury. It is caused by repetitive and/or vigorous contractions of the forearm muscles which is used to straighten, extend, and lift the wrist and hand. The repetitive motions and stress to the tissues can result in a string of tiny, microscopic tears in the tendons which attach your forearm muscles to the bony prominence on the outside of the elbow.
Tennis elbow may result from number of activities including but not limited to:
Typing and repetitive computer mouse use
Cutting/chopping motions
Manual work that involves repetitive turning or lifting of the wrist, such as plumbing, or bricklaying.
Gardening
Using hand tools such as scissors, clippers, screwdrivers, plumbing and carpentry tools
Playing racquet sports, such as tennis, badminton, or squash
Throwing sports, such as the javelin or discus
Painting
Sewing/knitting
Tennis elbow may also occur after a sudden knock or bang to the elbow, if you undertake activities that you are not used to excessively and aggressively, and sometimes there is no apparent cause for it.
Risk Factors
Factors which may increase your risk of tennis elbow include:
Your age: Whilst this disorder impacts people of all ages, it is mostly prevalent in adults in the age group of 30-50 years old.
Your occupation: Those who have jobs which entail repetitive movements of the wrist and arm are more likely to develop this disorder. Examples include but are not limited to painters, computer users, plumbers, butchers, carpenters, and chefs.
Sports: Partaking in racket sports increases the risk of tennis elbow, particularly if you use poor form and technique.
Common Signs and Symptoms
Pain noted around the bony knob on the outside of your elbow is the most common characterising symptom of tennis elbow. This knob is where the injured tendons connect to the bone. The pain is often depicted as "burning" in nature. Your elbow may be tender and sore to touch, and the pain can refer down to the forearm. The pain often increases with gripping, grasping, or rotating motions of the wrist and forearm. Bending and straightening your elbow may also be painful.
The severity of your pain may vary from a mild discomfort to severe pain that can interfere with your sleep and day to day activities. The pain typically starts gradually and then worsens over weeks or months.
Diagnosis
During your physical examination your physiotherapist will attempt to produce your pain in your elbow via specific tests and movements. They will assess your range of motion in your elbow, wrist, and shoulder joints. Referrals for X-rays and ultrasound scanning may be indicated to further support your diagnosis and to rule out other potential sources of your pain
Management
A mix of non-surgical treatment options are effective for the majority of tennis elbow cases, and self-resolves over time. You should rest your elbow and painful activities should be avoided. But it is very vital to maintain gentle movements of the forearm, elbow, and wrist through its range of motion.
Potential treatment options include:
Ice
Rest
Physiotherapy and acupuncture
Anti-inflammatory medications as recommended by your doctor or pharmacist
The use of a wrist and forearm brace or splint to support and rest your forearm
As your initial elbow pain lessens, your muscles around the elbow, forearm and wrist should be safely strengthened and stretched under guidance of a physiotherapist. Your physiotherapist will advise you on particular exercises, give you appropriate symptom management advice and take you through a personalised graduated rehabilitation program. If you continue to experience pain after 6-8 weeks of treatment, your physiotherapist can refer you back to your doctors, to consider administration of a cortisone injection into the elbow to help reduce pain and inflammation, and further referral onto see a specialist to seek guidance on other treatment options.
Helpful Exercises