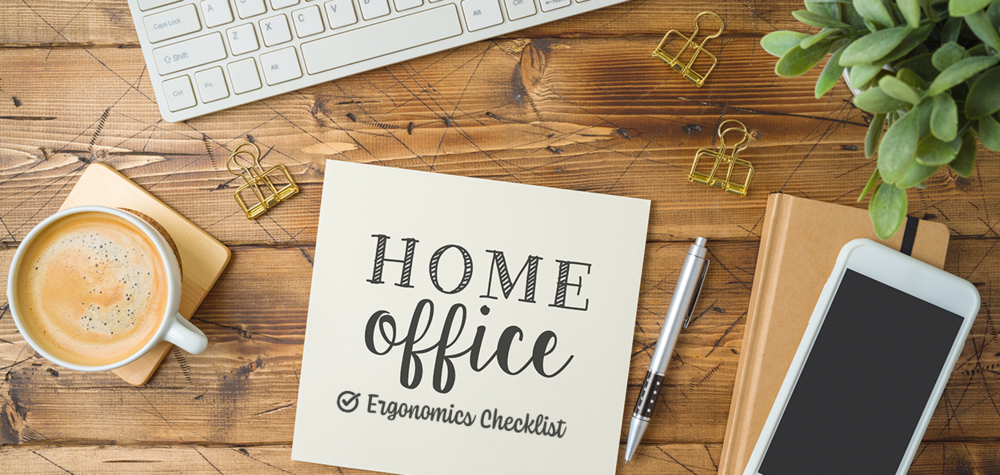 An ergonomically correct workstation has all the best practices to help maintain a healthy posture and improve your health and productivity.
Here are a few helpful tips;
1. Set up your screen
Adjust the monitor height so that the top of the screen is at—or slightly below—eye level. Your eyes should look slightly downward when viewing the middle of the screen. Position the monitor at least 20 inches (51 cm) from your eyes—about an arm's length distance. If you have a larger screen, add more viewing distance.
---
2. Set up your chair
Height – You should be able to sit with your feet flat on the floor and your thighs roughly parallel to the floor. If you require a taller chair in order to reach the floor you can use a foot rest to ensure you achieve the right angle.

Backrest Recline and Tilt – Research has shown that a reclined seat (at least 135 degrees back) significantly reduces the pressure on your back, and is particularity beneficial for people with back

Lumbar support – the shape of the backrest should have a natural curve to support your lower back.

Arm rests – Look for armrests that are not just height adjustable and support the entire length of the forearms.
---
3. Adjust your Desk Height
Your legs should fit comfortably under the desk if you are sitting with your feet flat on the floor: you should have enough space to cross your legs.

The angle between your forearm and upper arm should be between 90 degrees and 110 degrees while your arms are at rest on the desk.

Make your desk organized using storage accessories i.e. Document holders

Use an ergonomic mouse pad; to keep your wrists supported.
---
4. Organizing your Desk space
Organize all the items on the workstation according to their priorities and assign them to the proper ergonomic reach zones.
Primary Zone: High use items, easiest access

Secondary Zone :Medium use items, comfortable reach

Third Zone: Low use items, reduction in efficiency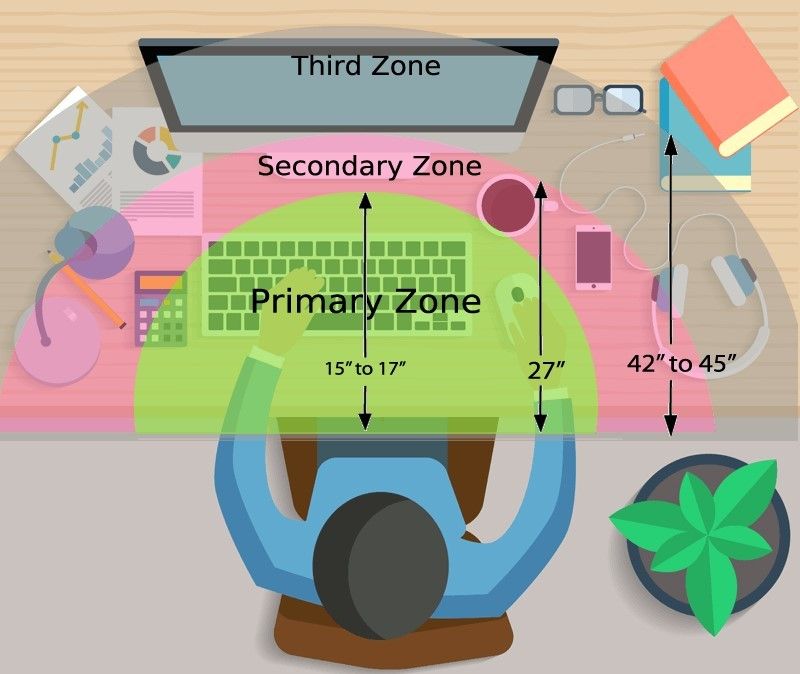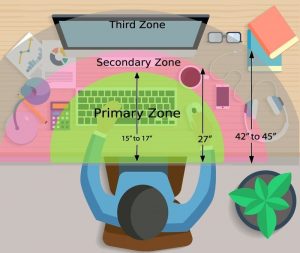 MOVEMENT IS KEY

Its a simple action step, but mighty! Get up out of your chair and take frequent posture breaks!
When we sit in one position for hours without moving, our performance slowly starts to deteriorate, our body slows down, static loading takes over our muscles and we actually get fatigued even when we aren't putting in any physical effort. However, when you consciously integrate these microbreaks into your day, you're giving your body a much-needed refresher and an opportunity to wake up your muscles and replenish blood flow. Research has shown that movement can also help with creativity, or get you 'unstuck' so you can approach your work with a different or fresh perspective and energy.
If you think your desk set up could be better, or want us to have a quick look we can do this via a video call. Book in for an appointment www.physiofusion.co.nz or give us a call on (09) 626 6186