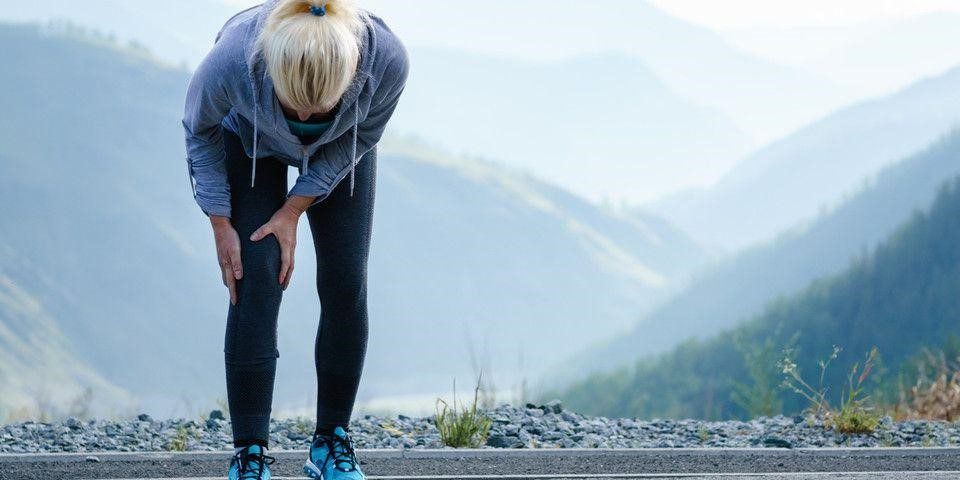 There can be multiple reasons why your knees sound like popping popcorns or grating stones when you squat.
Generally popping in the knees is attributed to stiffness of the quadriceps muscle and the fascia that surrounds the knee joint. Overtime, stiffness causes pressure to build up under knee cap, which on movement can cause a sudden release causing a 'popping' sound. As worrying as it may be, most of the time popping noises in the knee without pain is NORMAL. However, for others the noise can be accompanied with a grinding sensation under the knee cap which is painful. This suggests there is an underlying pathology that needs to be addressed.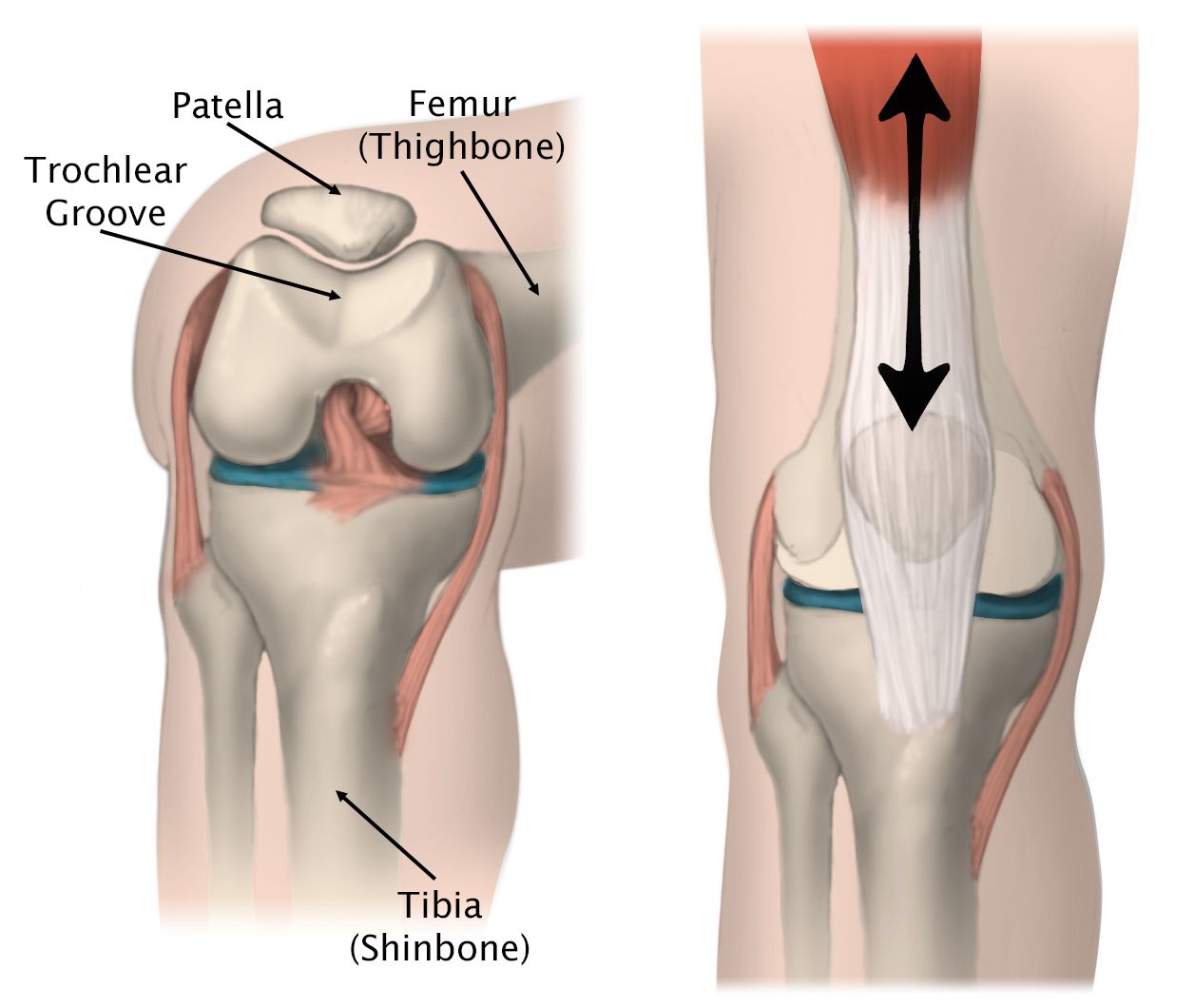 This is something we would clinically consider to be Patella Femoral Pain Syndrome aka Runner's knee – an umbrella term that encompasses the idea of dysfunctional knee cap tracking.
When you straighten and bend your knee, naturally your knee cap tracks up and down between its groove (trochlea groove) – like a train moving up and down a train track.
When the quadricep muscles on the outside (vastus lateralis) and inside (vastus medialis oblique) part of the leg are working in synchronization as they should, your knee cap is able to track up and down properly. However, if the quadriceps muscle (Vastus lateralis) is overly activated and the fascia (Iliotibial band & lateral retinaculum) on the outer part of you knee cap is excessively stiff, the knee cap gets pulled to the outside.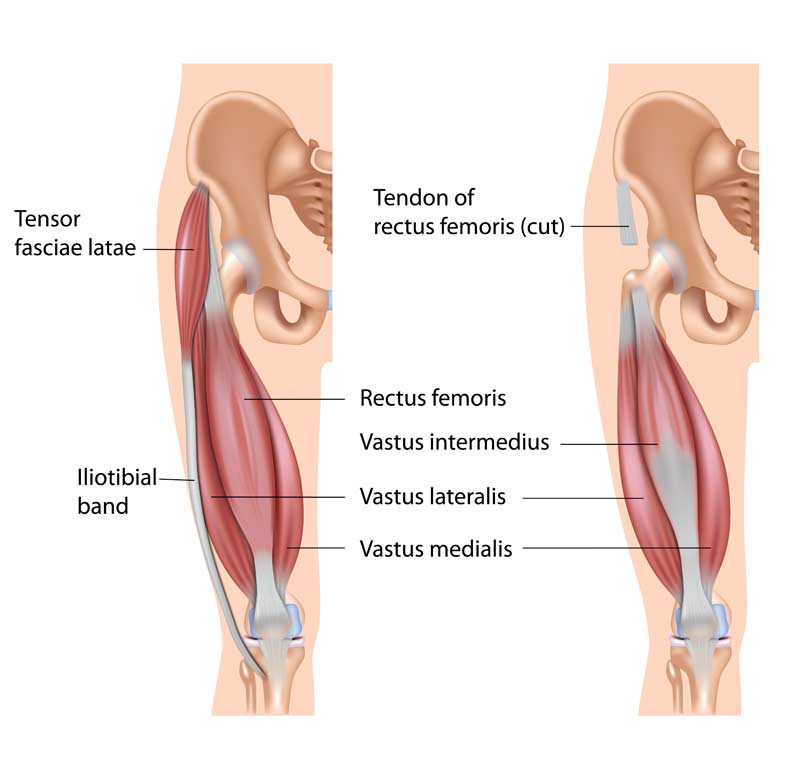 Essentially the train is being pulled and tilted more to the outside. Eventually overtime, repetitive or violent lateral pull of the knee cap increases friction in the knee grating the smooth underside of the knee cap called, chondromalacia. Additionally, the constant pulling and stiffness of the lateral side will cause stretching on the inside of muscles. On top of that, pain and swelling will cause the muscles in the inside of the leg to shut down.
Here are two steps to managing your symptoms.
---
STEP ONE
Foam roller or tennis ball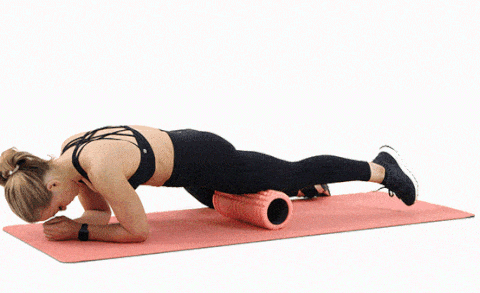 Instructions:
Lie on your front and place the foam roller underneath your leg.
Bend the opposite leg and bring it out to the side to help you move back and forth.
Roll the entire length of the thigh muscle, staying off the knee joint.
Make sure you move through the length of the muscle close to the knee cap as you can. You should be looking for stiff spots in the muscles and any sore spots you feel concentrate on it for couple of seconds and work deeper in to the tissue. You should also move in the inside and outside of the quadriceps muscles. Do this with you knee straight and then move into knee flexed position to optimize the release.
For a more concentrated release, use a tennis ball or a lacrosse ball especially at the quadriceps tendon where much of the stiffness is likely present. The reduced surface area of the ball allows you to work on specific spots a lot better to break down deeper areas of stiffness and create more mobility.
Do this mobility routine for 1-2 minutes
---
Quadricep stretches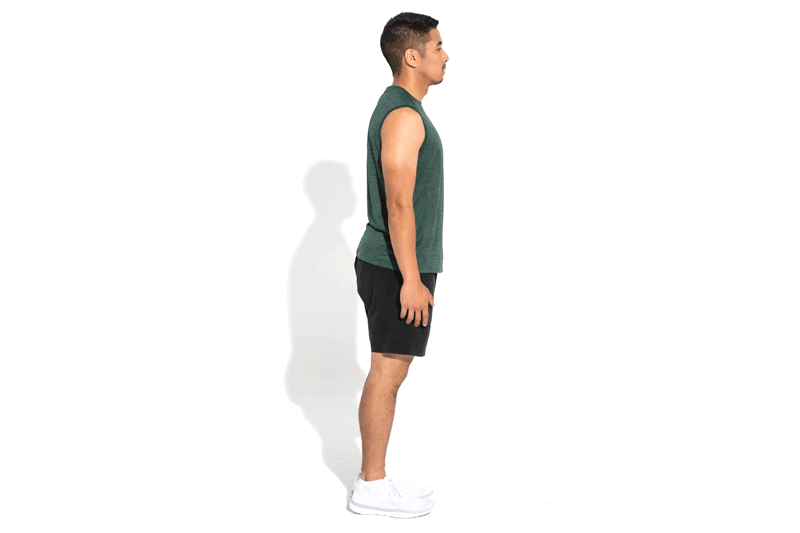 Start in a standing position. Use support if required for balance.
Raise one leg behind you grabbing hold of your ankle, or your lower leg.
Lift and hold for 20-30 second, and then repeat for the other leg.
Get into a lunge position with back leg flat on floor
Bend your knee and slowly pull your leg into a stretch
Hold this stretch for 20-30 seconds
For comfort place a rolled face towel under the knee cap
Modified quadricep stretch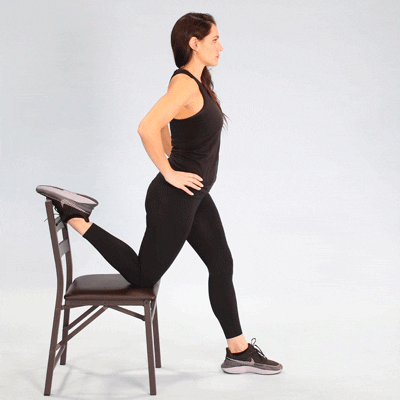 For some people if kneeling down is irritating for the knee you can modify the stretch.
Rest your leg on the chair with your foot against the back rest
Make sure your stance leg is far enough in front of the chair
Lunge forward until stretch is felt
Do this for 20-30 seconds.
NOTE: Long duration stretches of over a minute and more can decrease the potential for you to create strength and power in those muscles during your workout. So, prior to your workout focus on short duration stretches.
---
Functional mobility stretch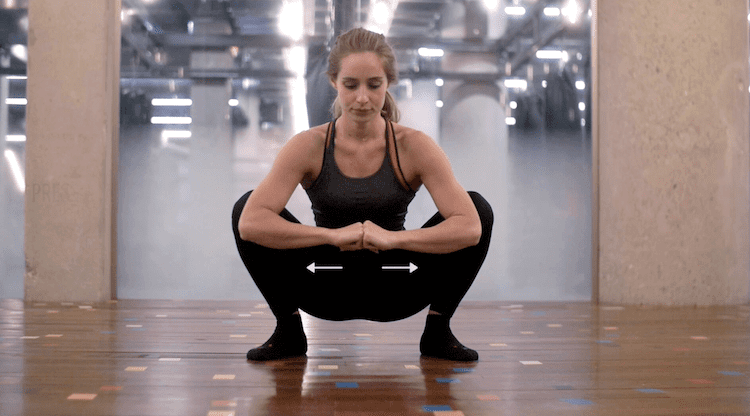 Deep squat sits are great to expand the stretch. If your symptoms are not aggravated, try deep squat sits for 30 seconds up to a minute.
Stand with feet shoulder width apart
Point your feet out to about 45 degrees
Sit in to a deep squat keeping the pressure evenly distributed across feet
---
STEP TWO
Now that you've resolved the stiffness in the lateral portion of your knee, next step is to address the muscles imbalances caused by pain and swelling. That is, turning back the firing of the quadriceps muscles.
An effective way to address this, is by doing what we call close chain exercises – these are exercises done where your feet are on the ground, such as squats. Initially you want start slow and high. Mini squats are great because they allow you to strengthen your quadriceps without putting too much compressive forces into your knee. As you get comfortable, advance to a deeper squat and slowly begin to work towards building you strength by adding on weight.
Mini bodyweight squats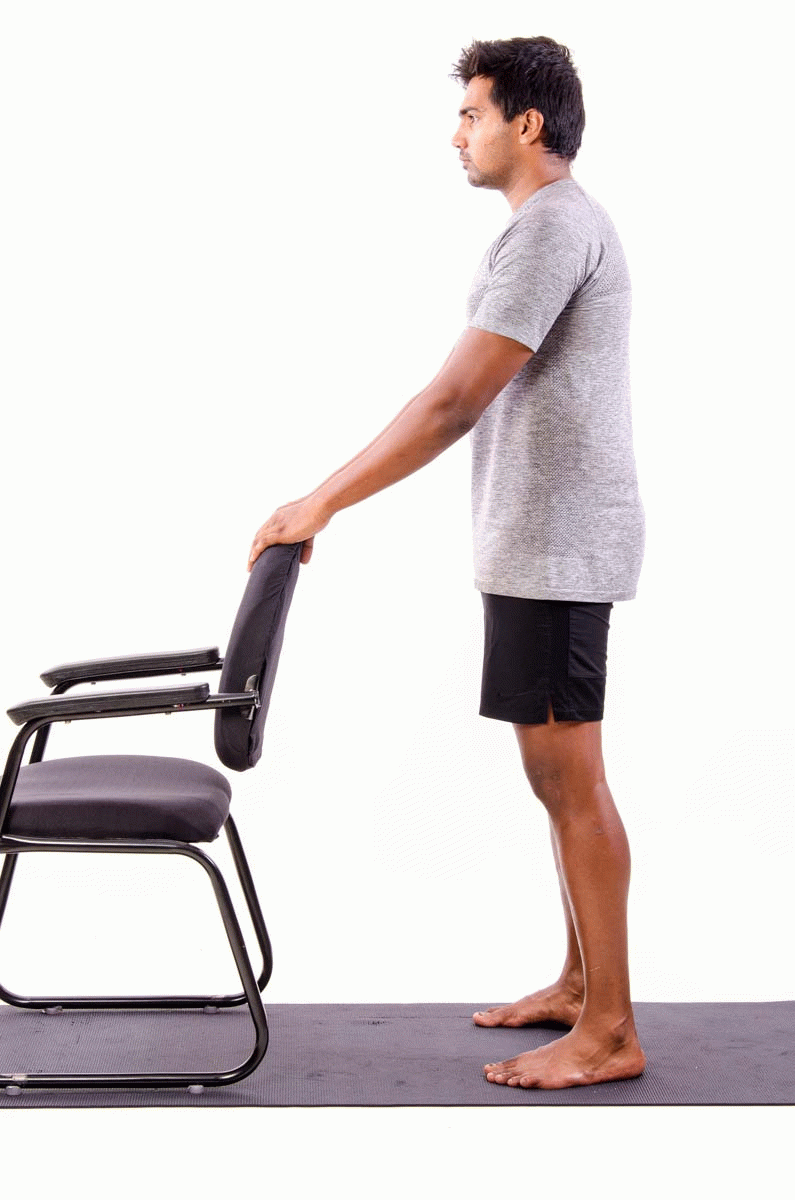 Stand behind a chair or table and place your hands onto the back rest.
Keeping your back straight, bend both knees into a semi-squatting position, allowing your hands to slide forwards.
Your hips should travel backwards as you counterbalance by leaning your chest forwards.
Push through your buttock and thigh muscles as you return to standing, and repeat.
---
Deep bodyweight squats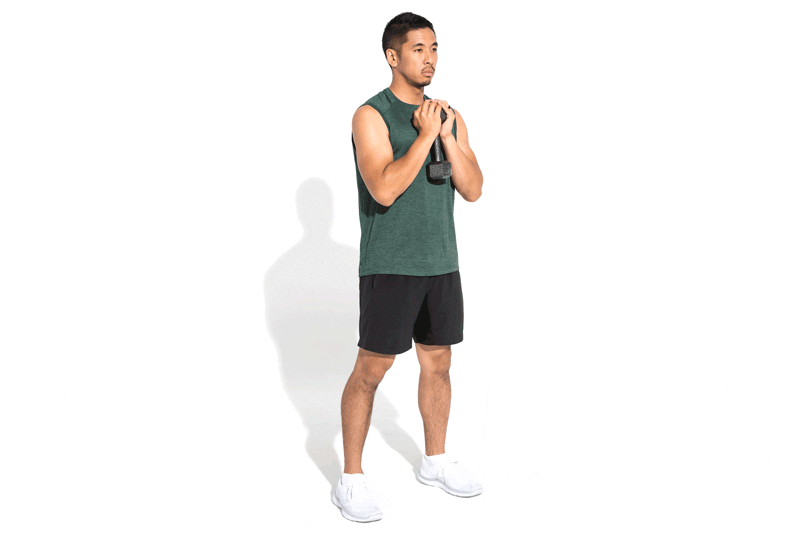 Hold on to the dumbbell, keeping it close to your chest.
Step your feet wide apart and turn the toes out slightly.
Drop down into a deep squat position, keeping your feet on the floor.
Control the movement back to the start position.
---
Caution: Avoid deep squats especially if you have ongoing grinding pain. Do not push in to pain, as this will only increase the forces and worsen your symptoms. At this point, it is highly recommended that you come in to see a physiotherapist to examine a potential underlying pathology.