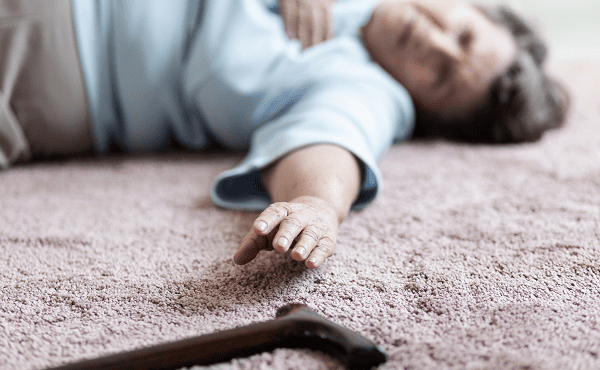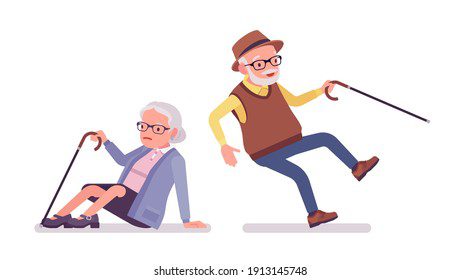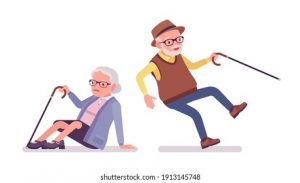 Having a fall is dangerous at any age, however, they become more frequent and may most probably result in injury in adults 55 years and over. It is also estimated that in Aotearoa, approximately a third of older adults over the age of 65 sustain a fall every year. This leads to harmful consequences for them, especially for those who live alone. Alongside, sustaining serious injuries, you may face loss of independence, mobility and confidence. But!!! The good news is that there are a number of ways that you can reduce your risk of falling.
So Why Do Older Adults Have Falls?
Poor lower limb strength
Cognitive and functional impairment
Nutritional deficiencies
Prior and/or ongoing history of falls
Vision deficits
Balance or gait disorders
Medication related- especially when using anti-depressants, sedatives, anti-arrhythmics, anti-hypertensives, diuretics, and anti-convulsants
Hazards around your home environment such as loose carpets, slippery surfaces, poor lighting, lack of safety equipment particularly in the bathroom/toilet
Medical conditions such as vertigo, dizziness, diabetes, postural hypotension, drop attacks, and fainting spells
The Vicious Falls Cycle
Older adults who have had a fall may limit what they do because of their loss of self-confidence and fear of falling. Whilst this may seem like the most sensible thing for them to do, it increases their risk of falls. This is because, this leads to a further reduction in muscle strength, coordination and balance. Hence, it is healthier for older adults to keep up with their activities they enjoy as safely as they can, work on improving their muscle strength, coordination and balance, and manage their blood sugar levels, blood pressure, and weight under the guidance of their doctor.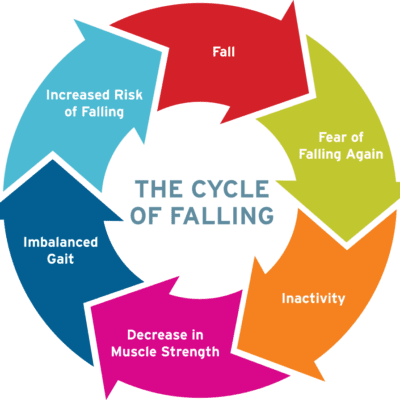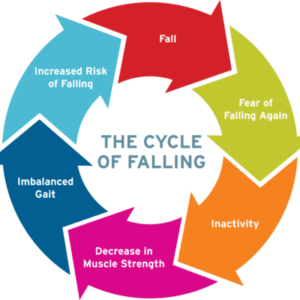 Falls prevention tips
Below are some measures you may take to prevent yourself from falling:
Exercise regularly: A number of benefits include better sleep, improved muscle strength, balance and flexibility, increased energy levels, stronger bones, better management of weight, blood sugars and blood pressure. Exercise programs tailored especially for muscle strength and balance have resulted in a reduction in the number of falls and injuries resulting from falls by approximately 30% and 50%. It is advised that you speak to your doctor or physiotherapist before initiating or progressing your exercise levels.
Keeping your vision in check: Vision deficits makes getting around safely a lot harder. Therefore, you should get your eyes checked yearly and wear your contact lenses or glasses with the correct prescription strength.
Being aware of the effects of your medication: As they may have certain side effects that increase your risk of falls. You should review your medications with your doctor for side effects like drowsiness or dizziness.
Reduce hazards at home: Most falls typically take place at home. So be sure to make your home safer by removing tripping hazards, having adequate lighting, and adding in handrails in hallways and bathrooms/toilets.
Other tips:
Taking your time to get up and when moving around- no rushing!
Having a personal medical alarm (please talk to your doctor about how to get one)
Using a night light when you get up at night
Wearing appropriate, supportive and well-fitted shoes
Not using an easily moveable object to stabilise yourself
Using the support of handrails in bathrooms and hallways
Avoiding or being very careful on wet or slippery floors
Appropriately using your walking aids
If You Have Had a Fall
If you sustain a fall, it is vital for you to stay calm.
If you think you are able to get up safely, try to bend your knees, roll to your side, and attempt to get into a 4-point kneeling position. If there is a chair near by or if you are able to crawl towards one, you can use it as support to get yourself up. Please take your time and rest as needed.
If you are unable to get up safely, attempt to crawl or roll towards a phone. You may call out to other members in your household or your neighbour. If you're at risk of falls, please do consider the use of a personal medical alarm to call out for help when you have a fall.
After a fall, please contact your doctor as soon as you can for an assessment of potential injuries sustained, muscle strength and balance to help prevent future falls. You may be directed to community or in-home sessions to enhance your balance and strength. Please discuss this with your doctors.